---


2020 THE PATH

---
Visiting The Park To Enjoy The Green In Toughxkd

2020 Visiting the park to enjoy the green in tough times
This was a breakthrough work for me. In this video I name trees in the park, I consider this one of my best works. I enjoy making Youtube videos so much that I post one almost every day.




Kenneth Stitt´s "Proud 1"

Parva Música 2020
Edition of 18, CD-R audio
Handmade with lino cut print drawings on paper
21 minutes
- Artwork, voice and poems by Kenneth Stitt
- Synthesizer sounds played by Pedro Centeno and Siân Baker.
Mixed and mastered in Carvalhido, Porto, 2020.

This is my poertry album 'Proud 1'. If you don't mind, I will let the poetry do the talking. It was great to work with Pedro and Siân on this one.

Parva Bandcamp
Parva Bandcamp #2

---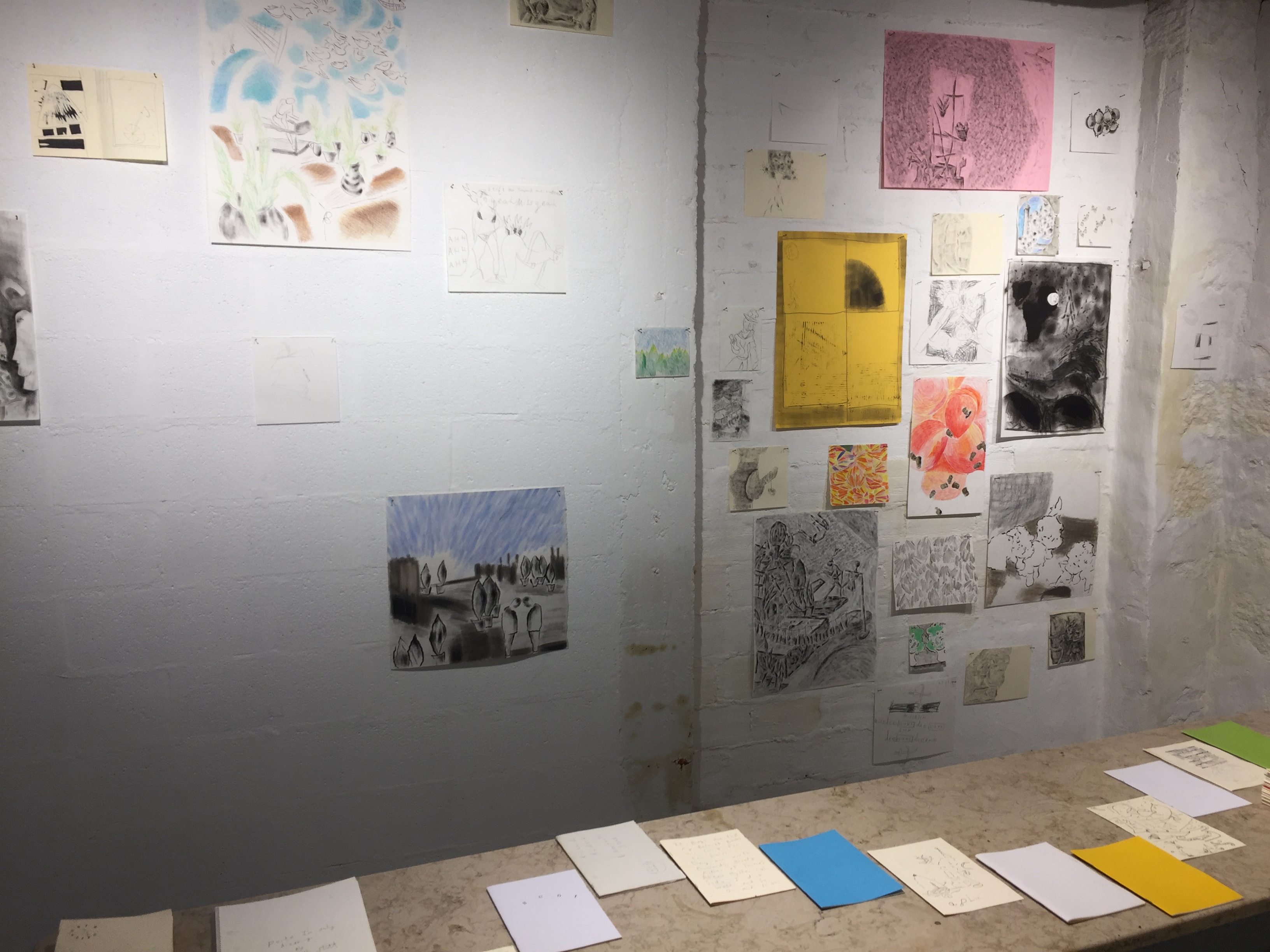 2019 Galeria Nuno Centeno - Kenneth Stitt and Philips Sussman, artist book room, curated by Parva Música / Porto, Portugal

This was a show with Phillips Sussman, I showed all of my handmade booklets and I had drawings on the walls. I am very thankful to Nuno and Parva Música for giving me the oppotunity to show my work in such a beautiful space.

---
HAHA YES! by Lonzdale's Fantas


This is a music video from Lonzdale's Fantasy. It's me on the vocals and Nils Meisel on the beat machines and banjo. We have played lots of gigs around Portgual.
The video is by Leo Taylor, Leo is very good to work with. Leo Taylor and Joel Winsor are my favourite film guys!

Bandcamp
Facebook
Insta

---
HYES! by fffLonzdale's Fantas


2018 Estonian Contemporary Art Museum - "The Stick" short film by Kenneth Stitt, Kaspar Aus, Marceau Couve (film screening) / Tallinn, Estonia

The cafe of the art museum had a project where they showed video works. Me, Marceau and Kaspar made a film called "The Stick". We went to a countryside house, convinced we were going to make "the greatest film ever". The whole thing was a drunken disaster but when we edited the footage together, something magical happened. Marceau and Kaspar are both beautiful people and were a pleasure to work with. In the future we plan to make "The Stick 2".

Marceau's website

---

2018 From Tallinn with love pdf (click to view)


---


2016 The Museum Lytke - "Buskaartus and Deliver van Delden 2" Florian Myer and Kenneth Stitt / Leipzig, Germany

The drawings on the wall are mine, the sculptures are made by Florain Myer. He is a great artist! The Museum Lytke is a small off space in Leipzig ran by Martin Lytke. It's better than most major museums and it's the size of a regular bathroom.

---



St Kenneth monk clown

In 2016 I was a monk clown on and off for some time, sometimes I would spend days without saying a word. The police threatened me several times, I was always causing mischief. I wanted to learn about the world via mischief, mischief is a great teacher. Sometimes the policed liked me.
I did unoffical perfomances in all of the main art museums in London, sadly these were all undocumented as I was really living it rather than doing it as a documented art work. I had such a great time as a monk clown, I also had very terrible and disturbing times. I would shave my head every day with a bic razor, it was always very smooth and white.
Being a monk clown you get to see the very worst in people and the very best, I stopped being a monk clown because it was very very very manic.

---

In 2016 (I think, can't quite remember)

I lived alone in an abandoned factory, I had lost the plot. It was an inspiring time anyway, I made crazy installations with drawings and paintings, every day was an adventure, just to get into the place I had to climb over a fence, then up a tree and across a holey roof, then I would walk through a room with holes in the floor and then I would arrive. I was also going barefoot everywhere which felt great. I was no hippie, more like a tramp. I was unhygeneic, dirty and closed off, so distant and disturbed.

---

2015 GapGap - "Sunday Cages" Kenneth Stitt (performance) / Leipzig, Germany

I was very proud of this performance, it was three hours long. Sagi was on the drums, he played a repetitive rythm. He said afterwards: "After the first hour I thought I was going to have to stop," but he sensed my high volumes of voodoo and kept going. I ran around with a bird cage on my head, screaming "sunday cages" through a microphone that hung from the ceiling. I also beat myself with the microphone. At the time I had a deathwish and I wanted to go out with a bang. Florian Roiser took the photos, I am forever thankful.

---

2015 Theatre Impermanent - "Kenneth Stitt" (performance and installation)

Sadly I have lost the documentation for this show. It was a five room installation, I did an eight hour gitar performance in rubber gloves. I pushed myself to sheer exhaustion, I was naked, the room was cold, I don't fancy that again! Sadly Threatre Impermanent shut down, it was a wonderful space.

---


2015 The Museum Lytke - "Buskaartus and Deliver van Delden" Florian Myer and Kenneth Stitt / Leipzig, Germany

This is the first show me and Florian Myer did in The Museum. It was a very mad and cozy show as you can see here, only four people could fit in the show. As you can see by people's faces, they were having a nice and relaxed time amidst all of this organised chaos.

The Museum website

---




2014 PILOTENKÜCHE - "Kenneth Stitt Performance" by Kenneth Stitt (performance) / Leipzig, Germany

In two thousand and fourteen I was mentaly ill and dangerous. I now encourage a healthy and balanced lifestyle. This performance does make me laugh and I am proud of it. People would ask me, "why naked?". Being naked is amazing and liberating, try it for yourself, that is the only true way to understand "why naked?"

---